Our priority is perfection in the work we do for our customers, we are dedicated to everything related to the facilities hardwood floors, floating floor, laminate, and glue down.
Also damaged floors, sanding and leaving them as new natural color, or if you prefer to change the color to your floor because you do not like it, we can sand it and put stain color of your choice.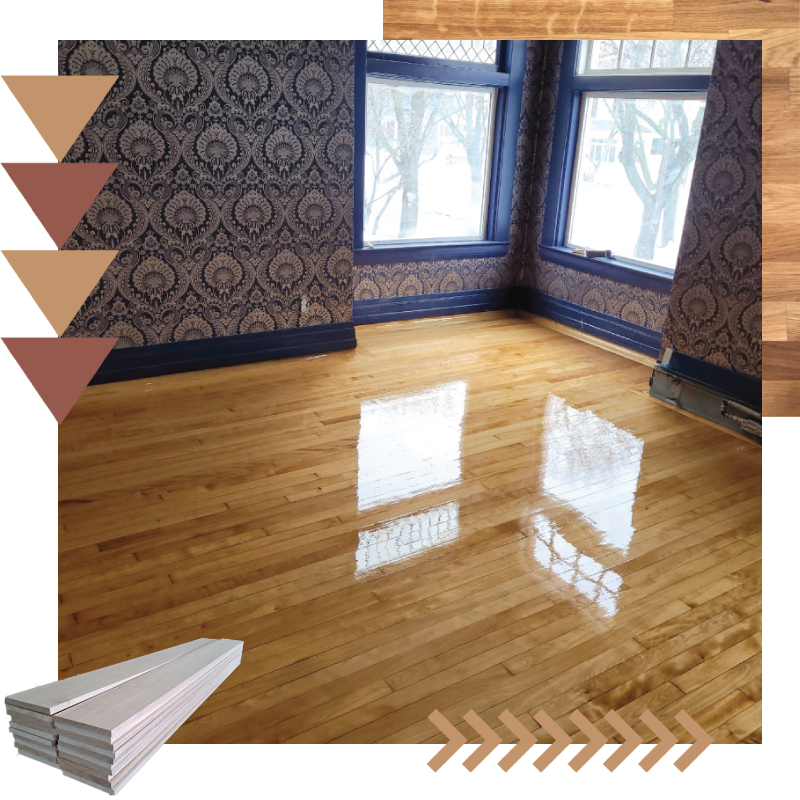 OAK
WE HAVE VAST EXPERIENCE IN OAK FLOORING
WALNUT
IT IS A BEAUTIFUL WOOD DUE TO ITS WARM RICH TONES.
HICKORY
THE MOST DURABLE WOOD FLOORING CHOICES AVAILABLE
MAPLE
MAPLE FLOORING IS BEST SUITED FOR YOUR HOME
CHERRY
CHERRY IS A GORGEOUS WOOD AND SOFTNESS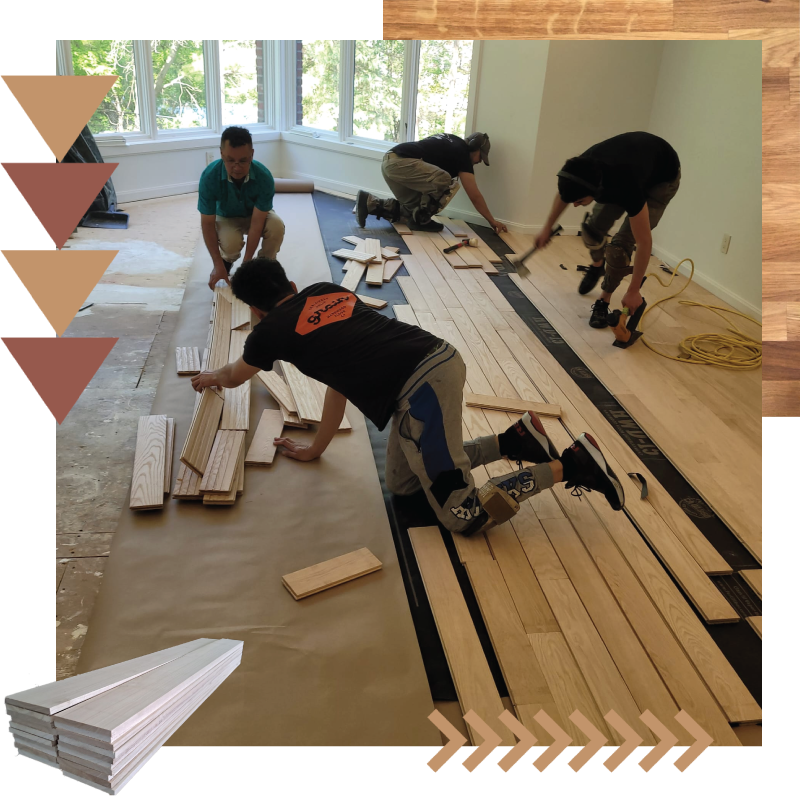 Hardwood Installation Services
At Rocha Wood Flooring, we will advise you on the latest techniques and trends and provide you with examples of different types of solid wood that will be useful if you still don't know what you want for your home.
Throughout our 17 years of experience with solid wood flooring, our team has created custom woodworking projects you can only dream of. Our knowledge of how wood works, how it takes color, how to sand and refinish it, how to bend and shape it is of exceptional quality. 
Our team at Rocha Hardwood Floors is proud to provide services to homeowners in Saint Paul, Minnesota and the surrounding areas.
Hardwood Refinishing And Repair
Your solid wood floors have a classic and elegant style, but it is inevitable that with the course of time and constant use their appearance is not as shiny and attractive as in their best years. 
That's why we offer a complete service that includes repairing and refinishing your floors. When you hire us you get passionate flooring experts who will take the time to sand, remove blemishes, prepare the surface, apply primer and lacquers that will guarantee a beautiful, long-lasting finish that will bring your floors back to life. 
Are you an interior designer or a home or business owner and want a long lasting and attractive floo? You can count on our experts since we have not only the knowledge but also the necessary equipment to complete the installation and refinishing of your floors.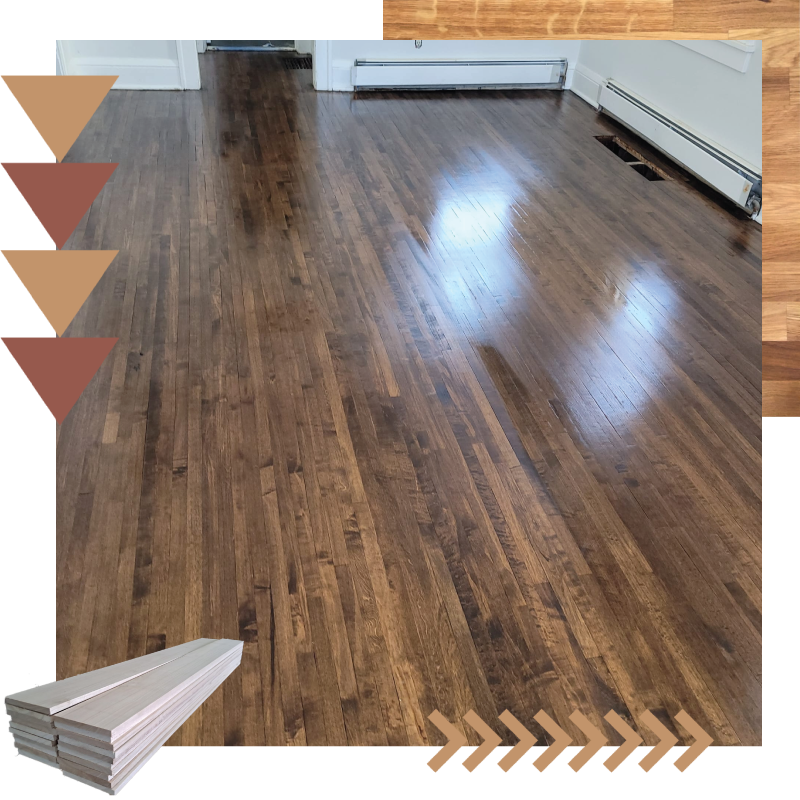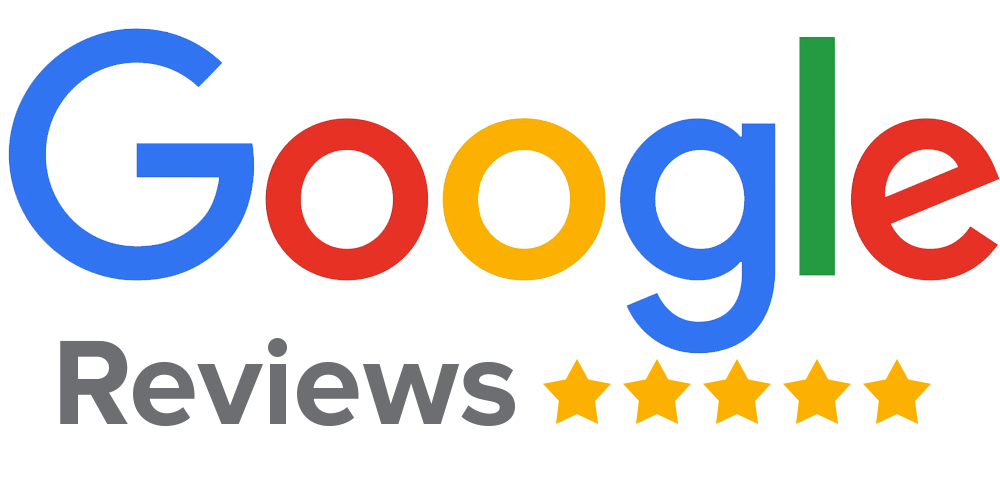 What Our Clients Have To Say
Awesome work and very professional from beginning to end I highly recommend this company to do your floors in your house or for business

Carmen M. Garcia


August 21, 2023

I closed on a new house in Saint Paul at noon on a Friday. Mario Rocha met me there at 3pm. He reviewed the project suggested replacing some... read more poorly done patch job that someone else had done and quoted me a good price. His guys started the me next day, Saturday and the project was all wrapped up the following Wednesday. The floor was done beautifully, the repair job Mario recommended really improved the look of the floor and I couldn't be happier with the finished product, service, and price. I will be calling Rocha back to refinish the second half of the house in a year or so when I get to that part of the house project.

Mike Kershaw


August 17, 2023

Rocha flooring is simply the best. They are supper professional, fast and high quality. They even went beyond and above and help me remove carpets on stair and... read more took time to take out all the nails and staples. This was not originally included in the price but they did it out of kindness. The owner is kind and very professional. I am supper happy with the finished product and highly recommend.

Hayat A


August 15, 2023

Mr Rocha did a great job and on time so I was able to move in to a new home on schedule. Floors were extremely damaged and now they look... read more brand new!

Ulises Mendez


August 7, 2023

Mario came to give a quote within a few days. Price was great and he and his crew did a fabulous job re-doing my apartment's hardwood floors. They sanded,... read more and applied 3 coats of polyurethane, within two days! Awesome! Thank you, Mario!!

Catherine Ojakangas


July 31, 2023

This team did a great job and went above and beyond, helping me move heavy furniture prior to starting. Totally changed my house in three days.

Jessica Matelski


July 31, 2023

We commissioned Rocha to refinish our kitchen hardwoods and blend with new hardwoods in the living room, dining room, bonus room and stairs. They did an exceptional job! Mario and... read more team were a pleasure to work with. I would use them again in a heart beat.

Brock Edwards


July 21, 2023

Owner is friendly and response to my request quickly, I like to get it done as soon as possible, so he arranged his crew and come to work next day,... read more so I did not need to wait for 2 weeks. All workers are work hard, fast, and has good experience plus great equipment to work on the floors. Great company to get your floor work done plus you will like the price too.

maggie shen


July 21, 2023

Family owned business green team, and hard-working guys.I definitely recommend these guys.

Erion Capo


July 21, 2023

Rocha did a wonderful job installing our engineered hardwood . They were efficient, prompt and courteous. We highly recommend them for your flooring projects and would use them again.

Linda Brue


June 21, 2023

Wonderful wonderful company and owner. Very happy with the work done.

Sarah Doll


June 21, 2023

Excellent work. Made sure I was satisfied with the job.

MaryBeth Stotts


May 21, 2023

We hired Rocha Hardwood Floors to install and refinish our kitchen floor and they did a great job! They were very timely, responsive and reasonably priced. They checked in after... read more everything was done to made sure I was happy with the floors.. I would definitely recommend them and call them for future projects 🙂

Becca Draeger


May 21, 2023

Mario and team were wonderful to work with! They were professional, hard working and super respectful of our family. The floors look amazing!! We had new floor put in and... read more refinish old. Love it! 💙

Jenn Rosen


May 21, 2023

good service, fast and very good prices

Julio Korona


May 21, 2023

My refinished floors are beautiful! they were very attentive to cleanliness and covering everything very well before sanding! Highly recommend!

Shannon O'Keefe


April 21, 2023

Rocha Hardwood Floors did an amazing job refinishing our old floor & integrating the new floor to match our new space. We had a house fire & had to... read more restore the old floor but also install and match the new floor for the entire main level. Rocha custom cut & repaired everything & went above and beyond to get it done to our liking. The post fire restoration process has been stressful & I told many friends that I wish I could clone our flooring contractor for our other projects. Mario Rocha hands down provides the best customer service. Honest. Reliable. Patient. Professional. The pricing is also very reasonable. I don't do reviews often but in this case I wanted to provide honest feedback for a great business. Highly recommend using them!

Michaela Turicka-Johnson


April 21, 2023

Mario and his team did a great job! Good communication throughout the project, and got the job done quickly. Muy bien, highly recommend!

Tommy Parmeter


April 21, 2023

We are so impressed with Rocha hardwood floors. They finger laced our existing hardwood flooring and you cannot even detect that we once had carpet. They did the entire installation... read more of over 900 ft.² in one day and came back on a Saturday and Monday to sand and stain. Their crew was quick and cleaned up great. They made our red oak floors more of a lighter tone which is exactly what we were looking for. Highly recommended!!

Jon Butala


April 21, 2023

The crew did an excellent job, they finished ahead of schedule. Taking care small details to refinish the wood floor. I recommend to use Rocha services to wood floor.

George BG


April 21, 2023

Excellent work, very happy with the result. I highly recommend this company.

Eric Sherman


March 21, 2023

They did an amazing job. Showed up when they said they would and completed on time.

Brooke Eastman


March 21, 2023

They came out measured my floors sanded them put new varnish on them and also he went the extra mile and did my cabinet in my living room which was... read more not in the agreement and it turned out beautifully I've used them several times on several different projects I would recommend him 110%. His prices are very reasonable and they take their time.

dewanna crawford


March 21, 2023

Mario and his team did a great job on our floors and we highly recommend them!

Ross Dunnigan


March 21, 2023

They do super good job! They are on time and very affordable prices

Manuel Lala


February 21, 2023

I'm a general contractor and have worked with Mario in several projects for more than 4 years. Super professional, excellent quality, and really good pricing.

Jose Llort


February 21, 2023

Very professional, quick to respond, priced respectfully and the final product was amazing. 10/10 recommend!!!

Colton Brausen


February 21, 2023

They did an excellent job installing and refinishing my red oak flooring. Hard working crew with excellent attention to detail. Highly recommend!!

Nicholas Keller


January 21, 2023

Had them sand and varnish my floors for the first time. Their suggestion to keep the natural tone of the floors was a brilliant one. They know what they... read more are doing and do it well.

Ingwazeir Staghand


November 21, 2022

Fantastic company! Very professional, fast and quality work. He not only completed the entire process in two entire days but also made time to fix a lot of damage that... read more was done previously and fixed some of the cuts HVAC made in the past too. We definitely recommend using Rocha floors!

Lake Retreat


October 21, 2022